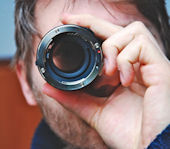 Does facial recognition software violate our privacy? What if we want to use it on donor prospects? The Economist wrote an article, Anonymous No More, in its 7/30/11 issue. It describes how facial recognition software has improved to the point that in the best scenarios you can feed a picture into it and discover personal information on one-third of individuals. Now, obviously, that means that two-thirds remain "anonymous", but it does demonstrate that picture-based research is viable and will improve.
As it stands now, I start with personal information (name and address or occupation) and find my way to a matching photo. In the not-to-distant future I can imagine subscribing to software that allows me to take fundraising event photos and identify the people in them – perhaps even automatically screening them for wealth.
Now try to guess who has developed a facial recognition search engine? You guessed it! Google. But they have decided not to release it. Why? Because of the sensitivity around the subject of… [drum roll]… privacy! Now try to guess who isn't afraid to use facial recognition. Facebook. U.S. Government. Prospect researchers? Hmmm.
Is there privacy left to care about?
It is very clear that the media likes to wheeze on about privacy (even in light of the recent Murdoch news scandals) and equally clear that most of humanity really does not care about privacy. We are happy to trade our personal information for discounts, convenience and even fun. Or are we? Mostly we are okay giving away personal information when we are asked and get something we value in return. It's when we get duped, fooled, or humiliated that our hair stands on end. And I am grateful to the journalists who report on those abuses.
When does privacy really matter?
If your donors feel that their privacy has been compromised by you they will stop giving. Worse, they might start saying bad things about your organization and get others to stop giving. Privacy matters.
Having a donor privacy policy will go a long way toward helping your organization communicate its actions with donors, but it is not enough to keep you out of trouble. Common sense, empathy and good recordkeeping are required.
For example, just because you found your donor's unlisted telephone number on her voter's registration record doesn't mean she won't be offended when your president calls her asking for a visit. Was it found in the public domain – yes. Was it in the donor record as a contact number – yes. Did the donor feel her privacy was violated – YES! There are no shortcuts to establishing meaningful relationships.
Facial recognition software is most likely going to do "quiet" tasks like match faces from our organization Facebook pages or constituent forums with photos in our donor database to create deeper relationship maps. That's not nearly as scintillating as using event photos to identify wealthy prospects, is it? But it is more efficient and respectful.
More info on ethics and privacy:
Aspire Research Group's Ethics Video
Letter to Board Members on Privacy and Prospect Research
APRA Statement of Ethics
AFP Code of Ethical Principles and Standards