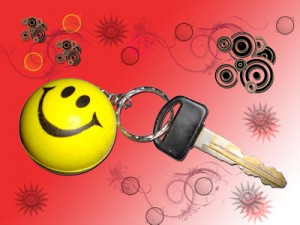 In this article I'm going to share the secrets of finding great prospects. Maybe you're one of those fundraisers who is always reading the Business Journal scouting for a lead, but they don't pan out. Do you wonder how those other organizations pull in the big gifts? Or maybe you're new and all the best prospects are assigned to senior fundraisers. You can get great prospects too!
If you read a lot of blogs (like I do) now is where you get skeptical. Is she just going to give me theory I already know (and hasn't yet helped me find good prospects) or will I get at least a couple of nuggets I can actually use? I'm aiming for the latter. The "trick" is that you still have to work hard!
Fundraising research theory tells us that you need to know who you are looking for so you can spot them. We use jargon like linkage, ability and affinity. And there are tools that give you a competitive edge with that. But you can do it even without bright, shiny tools.
The First Thing…
The first thing any good fundraiser (and prospect researcher) needs to do is learn what it looks like to be wealthy. Watching soap operas may seem like a good education here, but much better is reading through some of the wealth reports like the Knight Frank Wealth Report 2014. You'll find links for other reports in the sidebar on your right.
And the second first-thing-any-good-fundraiser-needs -to-do is get in front of people, especially donors. You should read and get in front of donors at the same time. Start with known donors because they are the most likely to give (again) and it's always better to get a gift, right?
Call, visit, and read.
When you are reading about the wealthy at the same time as you visit prospects you'll start making the connections. When the prospect talks about how he and his wife are taking classes in gemology and he has a watch collection, you'll remember what you read about this being an investment hobby for the very wealthy. And when a different prospect brags about taking regular trips to Europe on mileage points you'll recognize that what you thought were luxury vacations probably aren't.
You can do that without any tools except your eyes and ears. Well, I guess you need to use your mouth to place the phone call…and, okay, guide the conversation. But you get it, right? Recognizing the wealthy – the truly wealthy – takes an education.
Get Your Toolbox Dirty
Getting an education on spotting the wealthy still isn't likely to fill your prospect pool with GREAT donors – those with linkage, ability and affinity. If you have tools that assign ratings to the prospects in your database, use them! Don't be discouraged if it doesn't work out perfectly the first few times.
For example, you might pull a report of people who rate high for ability and likelihood to make a gift, but find most won't take your phone call. You may need to add additional criteria depending on your organization. Maybe it's "donor within the past two years" or "attended an event in the past two years" or some other criteria that makes it more likely they will let you visit with them.
Keep track of your efforts so you can repeat what works best. And, yes, this does mean you will have to make a lot of phone calls that end in "no thank you I don't want a visit".
It's the same even if you don't have tools that provide ratings. Without tools you have to get more of an education. You might use a free tool like the Washington Post's interactive map** of the nation's super zips to identify wealthy zip codes to search for in your donor database and combine that with "donor within the past two years" or other criteria that suggest a "warmness" toward your organization.
The Secret Weapon
If you are really lucky, you have a trained prospect researcher on staff. Use all your fundraising powers of relationship building to get this prospect research wizard on your side!
HOT TIP: your researcher is likely to get the most excited about searching out top prospects if you reward her with feedback from your calls and face-to-face visits.
With a prospect researcher on your team you are more likely to out-produce even seasoned professionals in the race for fundraised dollars. Really, really!
…and if you can't support a trained prospect researcher full-time, you can always outsource. Just sayin'!
**Julie, Prospect Research Analyst in Pennsylvania and Groundbreaking Student at the Prospect Research Institute, shared this fantastic resource with the class!
Did you get a nugget or two?
I hope you found a useful tip you can apply in your office. Maybe you have great suggestions you'd like to share with others. Please comment and share!
Jenz Favorite Wealth Reports