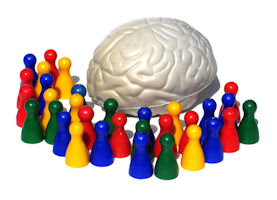 I'm building a beginner to intermediate course on insider stock and compensation and guess what I forgot? Dividends! Thankfully, my Content Review Panel Experts spotted the gap. And we had a great discussion about dividends that made my day. Why?
Well, of course, I was relieved to have my mistake corrected before I produced the video lectures, printed workbook and other materials. But really it was about having a topic discussion with varied colleagues who have differing opinions and resources to bear on the subject. I don't think I'm alone in thriving on these kinds of conversations.
I was fortunate to be able to attend the APRA 2014 conference in Las Vegas just a few weeks ago. Of course the sessions were fantastic, but really memorable was an informal gathering organized by Mary Gatlin of the University of Oregon. She posted on PRSPCT-L asking if anyone wanted to get together and talk about capacity ratings. Boy did we! Around 30 people responded. I had to sit on an end table because there weren't enough seats.
During the Vegas conversation we could each ask questions without fear of looking dumb and we could offer opinions and suggestions too. I learned what is happening at a big institution and some ideas on rating (or not) international prospects. Some of us made connections and now have new colleagues in our networks.
High-Level Conversations
This hunger for what I like to call "high-level" conversations is understandable because prospect research professionals have to learn vast amounts of information to get on the wagon and stay current. We need to be able to ask a beginner question one minute and share an advanced technique the next. Because that's the world we work in.
It also helps me understand why Prospect Research Institute participant Lisa Brown yearned for the Profile Peer Review Program. They are now doing their second round of peer review. Not only do they get to have high-level discussions, but they get to have those conversations after giving and receiving written feedback in a controlled environment. Powerful.
Back to Those Dividends
So what did we finally decide about dividends? We agreed that it's not usually a huge loss if they are forgotten, but that they offer a possible opportunity for a gift. Because they are essentially cash, if the number of shares is great it can be a significant part of the prospect's disposable income picture.
Don't forget the dividends when you research your prospects and don't forget that even if you are brand new to the prospect research field you have valuable knowledge and perspectives – your own "dividends" – to gift!
Other Articles You Might Like