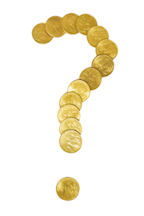 When was the last time you had a knot in your stomach because you were worried you were going to ask for too small of a gift? If you are like many fundraisers, the answer is not often enough!
$8 Million gift from Glenn Korff to University of Nebraska-Lincoln's School of Music.
$2 Million gift from Gene Feaster, an inventor of Superflab to the University of Kansas.
How badly do you want gifts like these?
The wealth screening companies tell us – perhaps with some bias – that organizations which raise more money and get whopping big gifts, screen their donor database for wealth regularly. This does not surprise me. Does it surprise you?
Bias aside, large organizations are much more likely to worry about asking for too little. It's a high-pressure, go-get-the-gift environment and the winners are those receiving the largest gifts. And large organizations invest in fundraising, including prospect research.
Research gives them the facts that can validate what they suspect, or disqualify a prospect, or find new information that impacts gift type and size.
But what can I do?
Hey! I heard that! "But we have no money for a screening." "We can't hire a prospect researcher anytime soon." "Our leadership won't invest in research."
And I have a response! (It wouldn't be much of an article if I didn't, would it?)
Whether you are a smaller organization dreaming big or one of a hundred gift officers, you are in control of your own behaviors. And here's a few winning behaviors to adopt – and maybe even influence others, like your leadership.
Get worried about asking for too little.
Words matter. When you talk strategy for a gift, state your target ask amount and then say, "But I'm worried that might be too low." (That was easy!)
Get wealth-educated.
Pay attention to articles, blog posts, studies and conversations about wealth. Because when someone asks you – "why do you think that ask is too low? – you will need an answer.
He sold one company. Could there be others?
He seems like the kind of guy to have a vacation home, but I don't have the tools to find out.
Jane board member says he owns a number of restaurants, but I don't know for sure.
Get search savvy.
No, you don't have to be a full-fledged prospect researcher, but every fundraiser should be able to find key information online about prospects. When was the last time you visited your county tax assessor's online database? How about Zillow.com? Do you have rule-of-thumb formulas to create capacity ratings?
Wealth screenings are one tool in the research toolbox. Even so, I hope you are actively thinking about a future budget that includes a screening. You might not need it now, but you will need it sometime soon.
Your mission and the people and causes you serve deserve funding. And if for no other reason, that should get you concerned about asking for too little.
If you want help finding information about your prospects, click here to contact Aspire Research Group.
Other Resources You Might Like:
Fall Fundraising Trends by Preeti
Filla Fast Favorite Links – a categorized list with wealth studies at the bottom