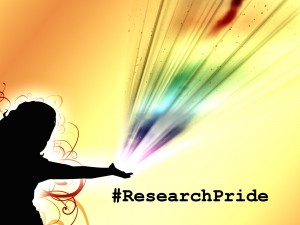 Are you proud of the work that you do? Do you get excited about solving information challenges at work? If so, why not take the opportunity this month to share your #ResearchPride?
Because I am proud of the work I do to support not-for-profit organizations, I advocate for the profession in many ways. But I wasn't always an advocate. It happened over time. My hope is that by sharing my advocacy story with you, you might realize that you, too, have been an advocate for prospect research – probably without really thinking about it. And just maybe you will be inspired to share some #ResearchPride this month with all of us!
I am a Professional
Prospect research has given me a profession where I can utilize the variety of skills I have acquired and apply them to making the world a better place. I have been able to hone my talents with the help of fundraisers and prospect research professionals around the world. It has been extremely rewarding and a tremendous amount of fun!
Being a professional is about more than excelling at work, though. It's also about being prepared for work and keeping up with trends. I consider myself a fundraiser who specializes in prospect research. Because of this it's important for me to understand what is happening in philanthropy around the globe and the many ways that impacts my work in research. I also endeavor to keep up with information technology and the changing attitudes to privacy.
My work is more than a j-o-b, it's a profession. When I am excellent at my work I am advocating for the profession. Staying interested and informed also makes it easy to engage with others about what I do.
I share and engage with the public about my work
When I first began speaking in front of fundraising groups nearly ten years ago, I made a habit of mentioning the Association of Professional Researchers for Advancement or APRA (pronounced "APP-rah"). I would ask the room if anyone knew about it. Rarely was a hand raised. When I moved to Tampa Bay, Florida from the mature fundraising environment in Philadelphia, Pennsylvania, I was challenged – not only did people not know about APRA, but most fundraisers didn't know what prospect research was either. Yikes!
Those were the pretty early years of electronic screenings. I often think of those first vendors such as P!N, Blackbaud, and WealthEngine as early advocates for the prospect research profession. Their marketing efforts were very successful. Suddenly fundraisers had heard about prospect research – and they thought it was a software product!
While that was annoying, at least it opened the doors to better conversation. I love what I do and enjoy telling people all about it – anyone in fact! People greet my explanations with curiosity and frequently more questions. Sometimes they share stories with me about their interactions with a charity of choice. By sharing my profession with others, I'm also encouraging people to have positive relationships with not-for-profit organizations. Advocacy is awesome!
I collaborate with and support the growth of my colleagues
While I was growing Aspire Research Group, I volunteered with APRA Florida, including serving a term as president. I would also volunteer at APRA conferences and it was a great way to meet new people. All of that felt pretty comfortable – almost easy. But then two big choices came my way that threw me out of my comfort zone and changed the way I viewed my role as an advocate for the profession.
First, two people at my local Association of Fundraising Professionals (AFP) Suncoast chapter encouraged me to answer a call for authors to write about prospect research for the Wiley/AFP Fund Development Series. This was an amazing opportunity to share my profession with the more than 30,000 members of AFP. It was also quite terrifying. Sure I was an excellent researcher, but I had very little experience with really large organizations or higher education.
That's when I decided I would collaborate with someone. Although I barely knew her, I called up Helen Brown. She was the biggest name I knew in our profession and she had the complementary experience. She said "yes"! We had some of the best discussions as we aligned our experiences under a shared philosophy about our work. As we each wrote our chapters there was continued discussion. It was an exhausting and exhilarating experience. And eventually there was a book, Prospect Research for Fundraisers: The Essential Handbook.
The second event was as the result of success. Aspire Research Group was growing and I reached out to other independent and freelance researchers. It didn't always go well. Sometimes I knew things they didn't, sometimes they knew more than I did, and often they did not have access to the paid tools needed to do their best work. Should I invest in those relationships? Should I share knowledge and tools with -gasp- my competitors?
What would you do?
Recently I saw something like this on social media:
CEO: We need to get training for our employees
CFO: But what if they get the training and then leave for our competitors?
CEO: What if they don't get the training and they stay?
That captures my final decision. I did share knowledge and tools with colleagues that I developed a close working relationship with and I have never regretted it. A small group of us are now exploring ways in which we could more formally work together and retain our autonomy.
I want our profession to be full of highly-trained, well-resourced individuals! Prospect research professionals are some of the most intelligent, creative, and collaborative people I have ever had the privilege of working with.
A big THANK YOU to Helen Brown for launching #ResearchPride month two years ago and for inviting bloggers to share the love!
Now it's your turn… consider engaging with the #ResearchPride hashtag on Twitter, Facebook, Google+ or any other social media platform where you participate. Comment on this blog post or visit the other blog posts listed below and share your thoughts there.
But most importantly, find your voice and speak. Practice your explanation of your work. Test it out on everyone who looks remotely interested. Share your #ResearchPride!
Other #ResearchPride Articles