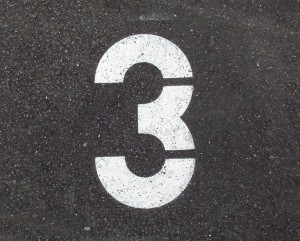 Whether I'm teaching the Introduction to Prospect Profiles course at the Prospect Research Institute or talking to an Aspire Research Group client, I get asked the impossible question: "What's the difference among research tools and which one should I buy?"
Information technology has been good to the prospect research profession and that means we have a wild array of tools from which to choose. And equally wild can be the price ranges! This makes it tough to assess the value of each and if they will meet your needs.
My crystal ball is in the repair shop so I can't predict the perfect suite of tools for you, but I can give you three strategies to approach your decision-making challenge.
Strategy 1: Linkage – Ability – Inclination ("LAI")
In prospect research it boils down to three key categories of information you want a tool to help you with:
Linkage: How can we connect to this prospect through peers? How is our organization linked to this prospect?
Ability: Does this prospect have enough wealth to make a large gift or increase her/his giving?
Inclination: Is this prospect philanthropically inclined? Is s/he willing to give her money to nonprofit organizations and institutions?
You already know about LAI, right? But have you considered narrowing down your research tool choices by those three categories? If you had to number them in order of priority in your fundraising efforts and/or weakness in your ability to research, how would those categories shake down?
Whether you need a tool to help you with all three LAI categories or just one can help you narrow the field considerably.
Strategy 2: The Five Profile Building Blocks
Once you know how the LAI categories rank in importance, you can begin to dig into exactly what types of information you want to find in a particular category.
This is where the five building blocks of the profile come in handy. No matter how your profile template is organized, there are five major categories of information a fundraising profile might have. Check out the Anatomy of a Profile illustration below to see if you agree.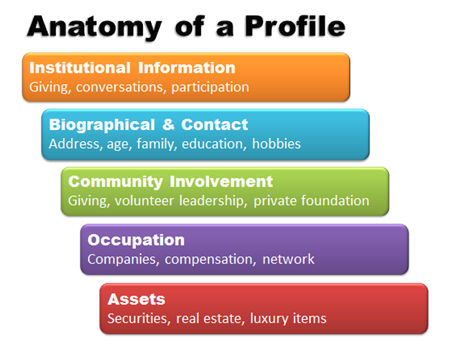 Linkage would fall under the Institutional Information Is the prospect an alum, donor, or volunteer? Is s/he serving on the same company board as your trustee? Vendors you evaluate might include ProspectVisual, RelationshipScience, and WealthX, among others.
Ability can be found in the Occupation and Assets What kind of wealth is being earned and how is acquired wealth being held? You might evaluate vendors who aggregate sources such as iWave PRO, Lexis Nexis, DonorScape, DonorSearch, ResearchPoint and WealthEngine, as well as specific vendors for ability such as LinkedIn or J3DonorWatch.
Philanthropic Inclination is in the Biographical and Community Involvement Did her child die of the disease you are on a mission to eradicate? Does he make gifts to other organizations or organizations like yours? You might evaluate the same vendors above who aggregate sources, as well as specific vendors such as Foundation Center Online, Guidestar, NOZA, and NewsBank.
Examining your needs in more granular detail through the profile building blocks will identify whether a potential product can give you the information you need most. For example, if you have a lot of public company insider prospects you may need a subscription tool that can make your research faster and better. On the other hand, if you are a lawyers' association, you might shell out for the current AM Law 100 from The American Lawyer to make better estimates of capacity.
Strategy 3: Free Trials and Peer Review
Even after you know exactly what you want in a tool you will want to evaluate its usability. Taking advantage of free trials and asking your peers for their candid comments is a great way to test the user-interface of a product and what information you will really get from its sources. One of my favorite places at conferences is the exhibit hall so I can learn about new products and tools on the spot.
You might have questions such as:
Will it integrate with my donor database?
Can I print a reasonable looking profile right from the tool?
Can I look at the "raw" search results or will it only show me results matched with its proprietary filter or algorithm?
And, of course, you always have to consider what kind of learning curve users will likely have. Is it easy to figure out? Is there live and DIY training available? What is customer service like?
The Process of Choosing Never Really Ends
Choosing the right product or suite of products doesn't happen just once and then you are finished forever. Instead, it's more like eating. Sure, you have your favorite recipes, but you go to restaurants or cook new dishes. Sometimes the new meal – or the new research tool – becomes a new favorite.
Information technology is an ever-growing field globally, not just in fundraising research. We can't hope to keep up with every tool that enters the market, but we can be strategic about evaluating whether a tool is likely to be a good investment.
More Resources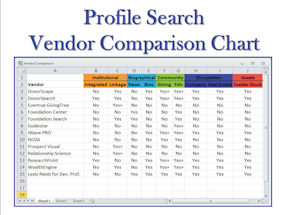 Click here to get your copy of the Profile Search Tool Comparison Chart. Be smart. Choose well.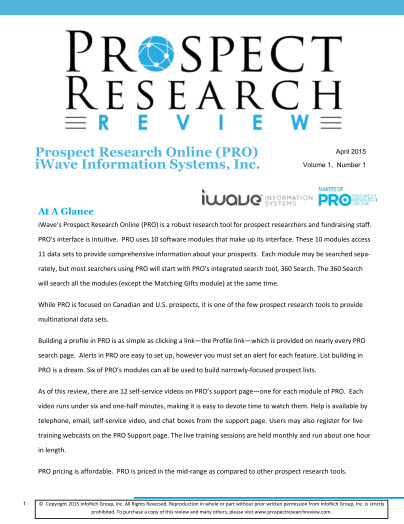 Prospect Research Review offers in-depth, comprehensive, and unbiased reviews of your favorite tools. Learn more>>>