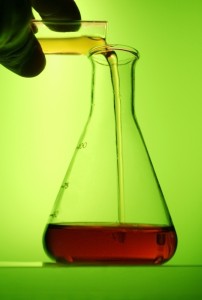 Did you have a chance to read the Chronicle of Philanthropy in April? The one titled "Science Unlocks the Secrets of Giving"? Because it was … provocative!
I am a prospect research professional. I love data! Poring over the latest wealth study and pulling out bullet points and formulas to use in researching prospects brings me joy! So why did the Chronicle of Philanthropy's coverage in April make me uncomfortable?
First, I'd like to say that being uncomfortable is not altogether a bad thing. Pushing outside the comfort zone can yield growth and innovation. And I really hope that happens when it comes to applying science to fundraising. But something isn't lined up properly.
What Using Science in Philanthropy Means 
As I argued in my Innovate or Die article, fundraising must change in response to the economic, cultural and other shifts occurring. What the Chronicle of Philanthropy articles were suggesting was that fundraising should be using the human research and fundraising-specific research studies to craft fundraising strategies and programs.
Human research? Yes really! Such as neuroscientific research delving into what is happening in the brain when someone gives. Research into "how the body's hormones can affect the reward-giving dopamine levels in our brains that create feelings of generosity and trust".
There was also a short story on how an organization gave up on an experimental fundraising strategy that involved direct mail with a do-not-solicit-option for the donor that promised not to solicit ever again if a gift was made. The organization was uncomfortable with having no way to build a relationship with the 46% who had made a gift under the do-not-solicit-option … even though they were raising more money from those gifts than with the traditional approach.
I understand the discomfort, but I don't understand mailing to all those people who will never give again anyway. (Don't be over-optimistic here; how many of your donors have permanently lapsed after the first gift? Do you even know? And do you continue to mail to them for years, hoping?)
Changing Perspective, Not Changing Values
 A slight shift in our perspective on donors can better align our organization with reality. We can maintain the same mission and values, but when we recognize that our donors are not "our donors", but "people who have a made a gift to our organization" we have room to see things differently.
The science might be saying that we are raising more dollars by not stewarding people who don't want to be stewarded, but from a new perspective we can translate that into … we will respect the wishes of people not to be contacted and we will honor those who do want to be contacted by spending more of our resources building relationships with them.
The science says we will and are raising more money with a specific strategy. Our shift in perspective allows us to say we will and are raising more money using the same integrity and values we have espoused all along – the donor's right to make choices.
Sure, neuroscientific research studies can be a little bit difficult to decipher and boil down to actionable bullet points. Yes, fundraising research can be in opposition to long-standing traditions and beliefs about donors.
It can make us uncomfortable.
We have to question our resistance. We have to change the angle from which we view the situation. Why would we not want to respect the wishes of someone who has made a gift to us? Even when it is a wish not to be contacted.
Research is suggesting, nigh, demanding that we do our fundraising differently. Innovate or Die!
But we must do 'different' with a balanced approach. We must shift our perspective so that we can make decisions that accept reality and yet still align with our mission, values and the trust the public has for our organizations. The trust they have in us.
More Resources: